You are invited to join our MARCH Edition of our "SEW WITH WAXPRINT" CHALLENGE and there will be some changes coming with our motnhly challenges.
Usually they are just one week and separate to our box projects, but now you can join in to the project concept in the box and decide to sew along with the subscribers. 
For March we are making a two piece loungewear outfit for our March boxes and you are invited to join.
Are you in?
Subscribers you'll get access to a private video training sessions on YouTube. Details will be sent by email to you. 
**Not a subscriber? Sign up today and receive the full sewing kit with patterns fabrics trims and trainings!**
Subscribe here www.waxandwraps.com/subscribe only until the 15th though!
Now scroll down to see more information and see just how this will work.
Are you in? Comment below and do let me know. I love to hear from you.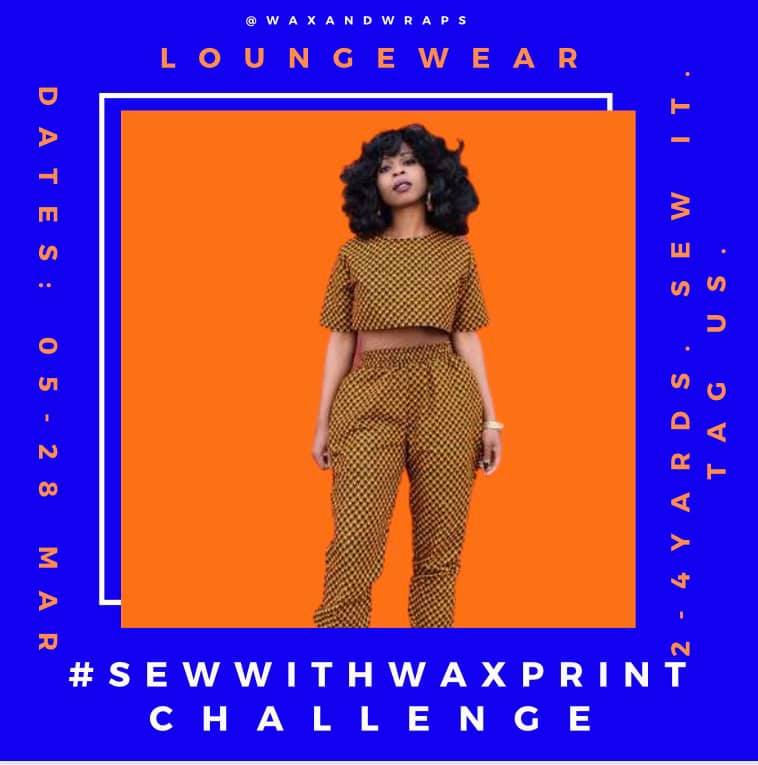 Key information for those who are in...
Dates: 5-28th March.
Must dos:
1) find a pattern of two piece - you choose its design but the more interesting the better
2) choose 3-4yards maximum of waxprint/african print/ankara (get some fabric from waxandwraps.com/shop-1 if needed)
3) get sewing!
4) One it's done tag @waxandwraps on instagram (use facebook if you don't have an instagram account) and use the words
>>> I took part in the #SewWithAnkaraChallenge with @waxandwraps <<<
5) I will make a note of all who do and at the end of the month I'll share the fastest sewer makers on the wax and wraps social pages and emails and let our community select the best.
6) The winner gets a surprise gift!
****BONUS POINTS**** for those who tag a friend on instagram to follow @waxandwraps and join our monthly SEW WITH ANKARA CHALLENGE
Today we begin and you have until March 28th to sew with ankara/waxprint!
Let's go!
Oh do you need some fabric?
Then you can go to our online shop - see link below to order some and I will send them out to you quick sharp so you don't miss out on the challenge.