I was excited to share my story how I started Wax+Wraps with Black Beauty magazine. As a black owned, female owned business it means a lot to be featured in their publication.
Many don't know that it was after facing multiple redundancies and job losses, that I, Jacqueline Shaw, a fashion design industry professional, used the opportunity of Covid-19 lockdowns to kickstart Wax+Wraps, a new fabric sewing subscription box. I saw it combining sewing crafts, with African sourced and handmade fabrics with an impact story – and do this by offering monthly projects, sew-a-long videos, and even online group support for members.

"During the first lockdown we have all been at home. I noticed how the crafts and sewing hobby market has been gaining traction and saw how the pandemic was causing many to return to sewing and many made masks for families or for sale. I was wondering, as a business coach and industry leader, how I could help serve my clients and people more.
I had a subscription-based businesses previously and saw the power of this model and doing that with an African focus as a solution. I launched Wax+Wraps alongside training a group of my students to show them how to do it too."
This week we were featured in the Black Beauty and Hair magazine newspaper and there you can learn more about my story starting Wax+Wraps how I was "failing to find a sewing subscription that also had impact with every box, so decided to create my own, using my network in Africa."
Along with sourcing Africa's popular, colourful prints directly from African waxprint houses, I focused predominantly on sourcing textiles from African artisans who had been challenged by the impact of lockdown, and who had skills in handprinted or handwoven fabrics because I believe we the consumers are the change we want to see.
Read more on the article here: https://www.blackbeautyandhair.com/wax-and-wraps-sewing-service-subscription/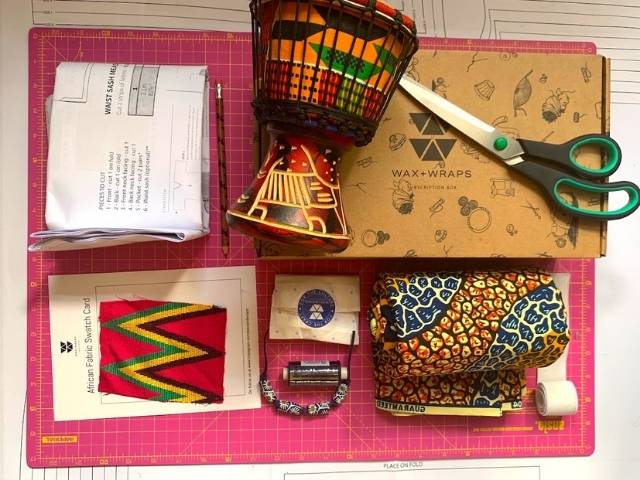 We are excited to share our trial boxes are now available so you can try us out see link here: https://www.waxandwraps.com/subscribe/trial-box
Also note that our 2022 boxes will open January 1st for subscriptions (go to www.waxandwraps.com/subscribe)