The May box has landed at Wax+Wraps and being Africa Day and African Month this is a key one!
It is one box month that I was very much looking forward to revealing with you as there are so many great elements to it for you to enjoy
Firstly lets look outside then look inside:
You will see that this months box cover has been illustrated from a fellow female entrepreneur. called Shanaya from Suriname. I commissioned her to design an illustration that covers al the elements of our African Sewing Kits and I think she has done a great job. This new box will evolve over time but for now this is a fresh additive to our subscribers box collections. BUT for the lovers of our waxprint boxes don't worry I've got you too boo! They will be back.. just mixing things up for you having fun with prints!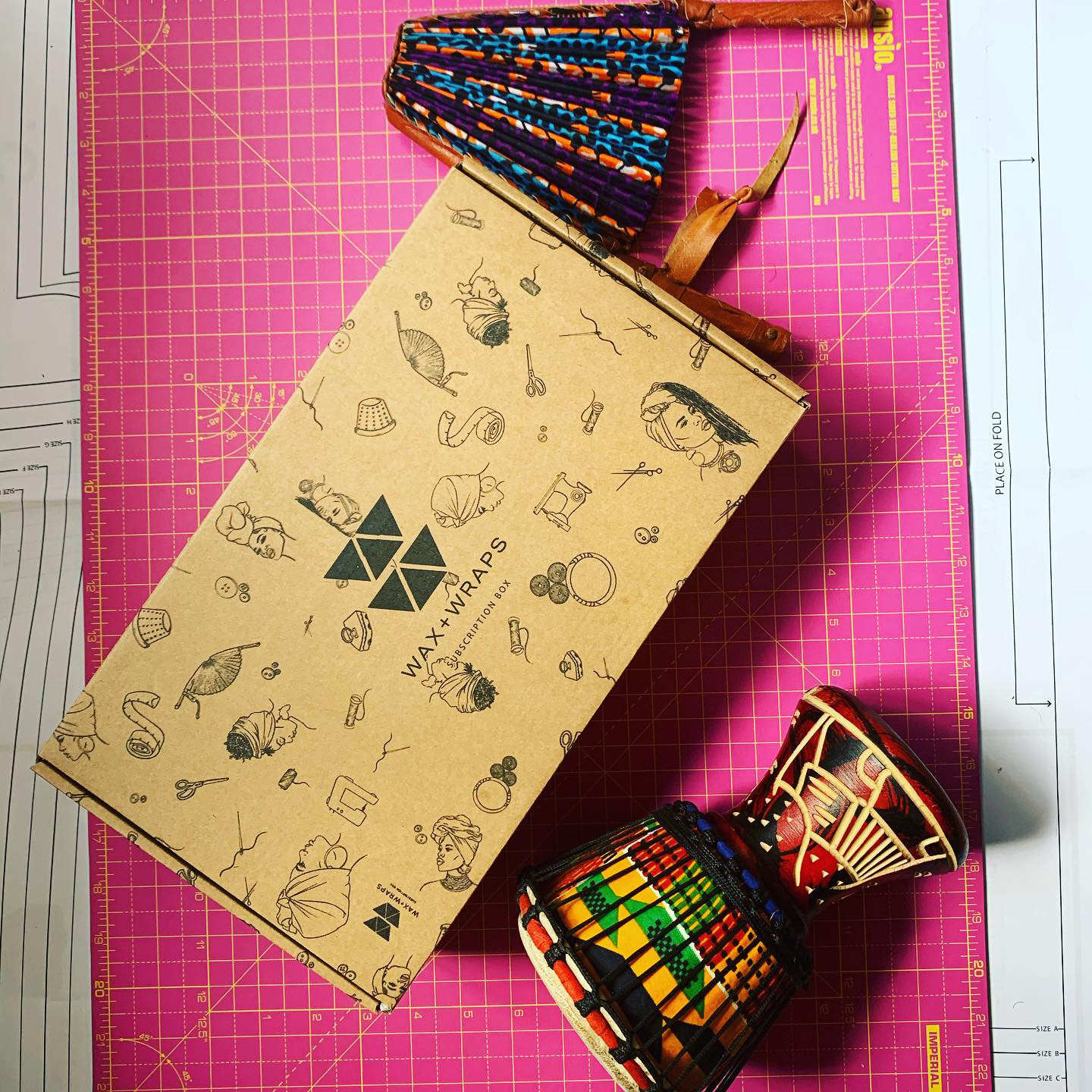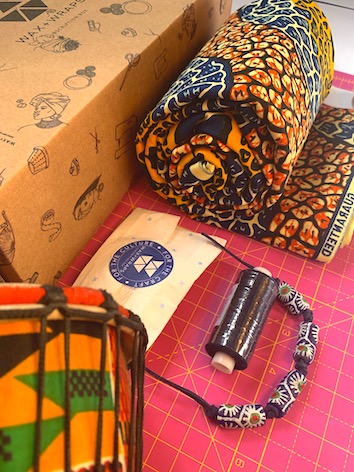 The country theme of the May Sewist box is the wonderful country of Ghana or the Gold Coast based in West Africa. Known for its numerous kingdoms and empires that emerged over the centuries, of which the most powerful were the Kingdom of Dagbon, and the Ashanti Empire. Beginning in the 15th century. Following over a century of native resistance, what are now Ghana's borders follow the lines of what were four separate British colonial territories: Gold Coast, Ashanti, the Northern Territories and British Togoland. These were unified as an independent dominion within the Commonwealth of Nations on 6 March 1957. (according to wikipedia)
Ghana is one of my personal favourites in Africa, a relatively safe country to visit with a lot of tourism and business and history. And with strong former presidents like Kwame Nkrumah it is more than fitting to focus on Ghana for Africa Month.
Inside the box is truly a dream!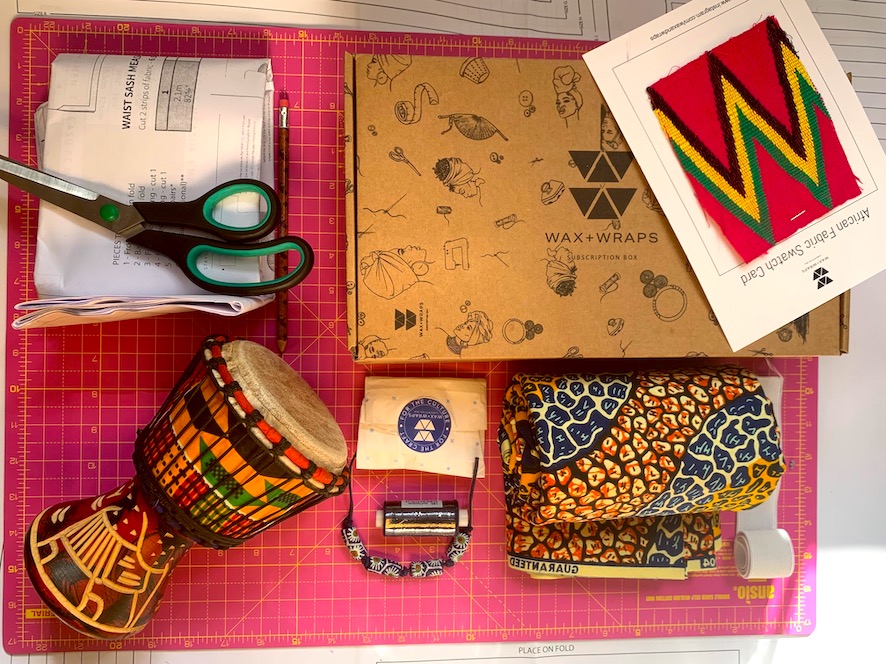 This month you are encouraged to sew with the romper playsuit sewing pattern given to you as part of your african sewing kit inside the box for all that spring to summer seasonal weather we are experiencing. Each month there will be something new for you to make for you, a gift for a friend or the family or even for the home! What could you imagine making with the fabrics in this box?
You'll have everything you need to make your very own romper in waxprint!
Your box includes:
2 yards of hand

print batik fabric

a romper / playsuit sewing pattern

thread and trims to match

a fabric swatch card with traditional country cloth fabric

your very own Wax+Wraps waxprint pencil

PLUS a make your own DIY craft gift. You will be making a bracelet using classic Krobo beads handmade from recycled glass in Ghana. Watch my video on youtube channel featuring an artisan glass beadmaker and you can see evidence of how they do this.
The swatch sample card features a Country cloth fabric - Kente traditional to Ghana made from local cotton.
Want in?

Be a part of the club? Easy!
You are in just by signing up for the Wax+wraps African Print Subscription Box and get your african sewing kits sent to you monthly!

May box deadline is May 15th and boxes are shipped between 15-28th May

Subscribe at link: www.waxandwraps.com/subscribe
.
A special box guaranteed to give your wardrobe a seasonal feeling this start of spring!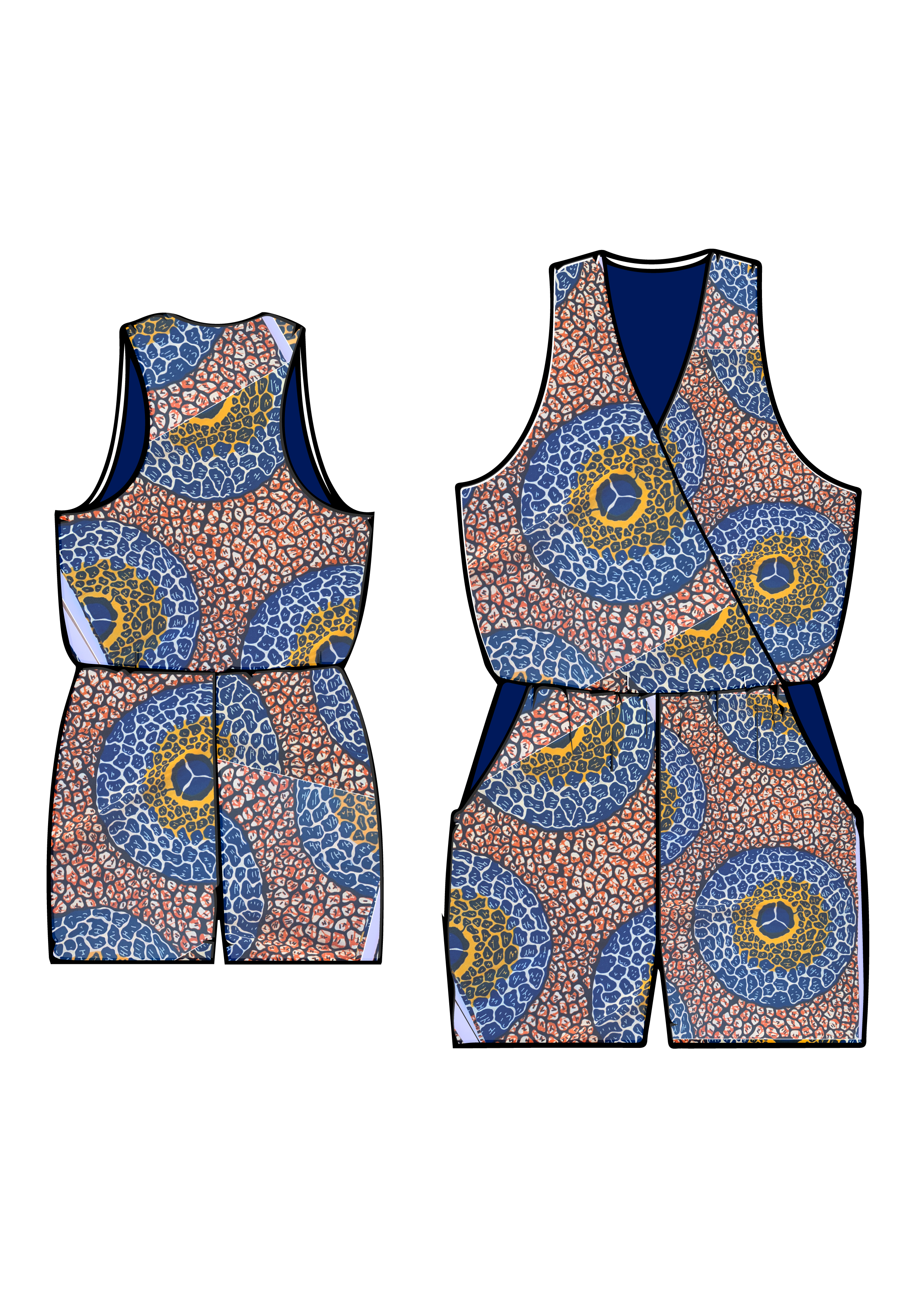 What ever happens our African Print Subscription Box is guaranteed to help you smile this spring. Don't miss out on our Ghana box. 
If you also love the fabric and want more, don't worry, do check out the Wax+Wraps shop because there may still be some fabrics there for you. Or even grab yourself a Wax+Wraps Waxprint Pencil or Wax+Wraps Playing Card set!
Head over there now - see link: www.waxandwraps.com/shop-1